How to Speed Read in 15 minutes
How much more could you get done if you completed all of your required reading 3 times faster?
The method described below has been created by meta-learning expert Tim Ferriss, it has never failed before. This exercise will take you less than half an hour and will save you hundreds of hours in the future. You cannot make a better investment with your time than to complete this exercise.
What you need:
A practice reading book
A timer or clock (use your mobile phone)
A pen.
STEP 1: Determine Your Baseline
Firstly, let's determine your current reading speed. Remember to write down you result (words per minute)! You will need this later.
a) You can do this quickly, by taking the easy test below. Simply click the red button and you will be taken to the reading speed test.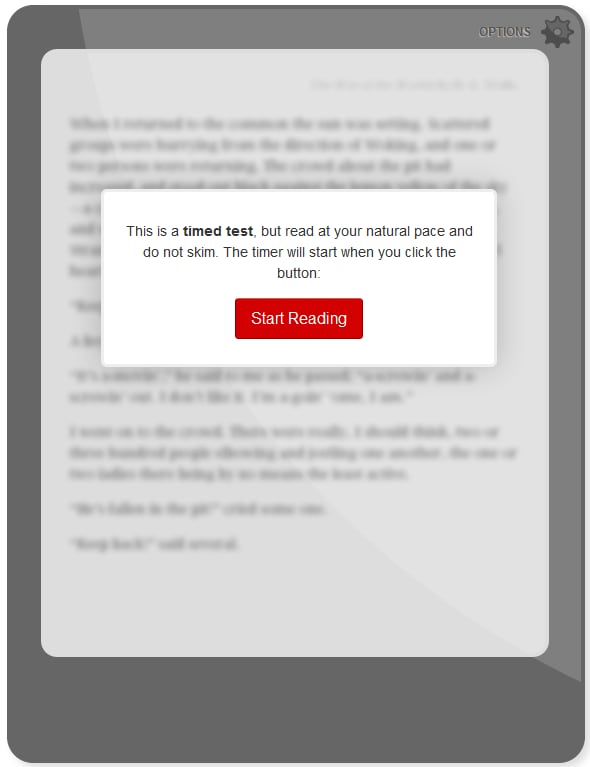 Source: Staples eReader Department
Or…
b) If you prefer to calculate your reading speed manually:
Calculate the average number of words per page – Take your practice book (which should lay flat when open on a table) and count the number of words in 5 lines. Divide this number of words by 5, and you have your average number of words-per-line. Example: 62 words/5 lines = 12.4, which you round to 12 words-per-line.
Next, count the number of text lines on 5 pages and divide by 5 to arrive at the average number of lines per page. Multiply this by average number of words-per-line, and you have your average number of words per page. Example: 154 lines/5 pages = 30.8, rounded to 31 lines per page x 12 words-per-line = 372 words per page
Read at your normal speed for 1 minute: Mark your first line in the book. Set the timer for 1 minute. Start reading -do not read faster than normal, and read for comprehension. At the end of the 1 minute, mark the line where you stopped reading.
Calculate your word-per-minute reading rate: Count the number of lines that you read and then multiply that by the average number of words-per-line which you calculated in above.
This is your current words-per-minute (wpm) rate.
STEP 2: Learning to speed read

You can learn how to speed read in 15 minutes by watching this video by Zander Woodford-Smith which does a good job explaining and going through the technique. If you can't access the video or prefer to read the text, skip to below the video and read our clear instructions.
a) Training your eyes to move constantly and quickly
One of the major inefficiencies during reading is regression and back-skipping. This is when your eyes move back and forth along a line when reading. The reason your eyes move backwards is because you might have skipped a word. However, this is also results in rereading a few words. Ideally, you want to read with one continuous, forward flow. Back-skipping must be eliminated, and this can be done using the following technique which will train your eyes to follow constantly in a straight line.
For the purposes of this article, we will use a pen. Holding the pen in your dominant hand, you will underline each line (with the cap on), keeping your eye fixation above the tip of the pen. This will not only serve as a tracker, but it will also serve as a pacer for maintaining consistent speed and decreasing fixation duration. You may hold it as you would when writing, but it is recommended that you hold it under your hand, flat against the page. Do this for 2 minutes. Underline each line in 1 second. Don't worry about comprehension.

Done? Good! Next repeat the underlining, and do each line in half a second. You probably won't understand anything at this stage. Again, don't worry about that. Do not decrease speed. ½ second per line for 3 minutes; focus above the pen and concentrate on the technique with speed. Focus on the exercise, and do not daydream. Do this for 3 minutes.
b) Perceptual Expansion
If you focus on the center of your computer screen (focus relating to the focal area of the fovea in within the eye), you can still see and register the sides of the screen. Training your peripheral vision to register more effectively can increase reading speed over 300%. Untrained readers use up to ½ of their peripheral field on margins by moving from 1st word to last, spending 25-50% of their time "reading" margins with no content!
To illustrate, let us take the hypothetical one line: "Once upon a time, students enjoyed reading four hours a day." Begin your reading at "time". So focus on the word 'time', and you can still see the words "once upon a" in your peripheral vision on the left. Therefore you don't need to start reading at the word "once". Similarly, finish the line at "four". By doing this, you would eliminate 6 of 11 words, more than doubling your reading speed. This concept is easy to implement and combine with the tracking and pacing you've already practiced.
Practice time! Grab your book. Use the pen to track and pace at a consistent speed of one line per second. Begin 1 word in from the first word of each line, and end 1 word in from the last word. Do this for 1 minute. DO NOT CONCERN YOURSELF WITH COMPREHENSION. Keep each line to a maximum of 1 second, and increase the speed with each subsequent page. Read, but under no circumstances should you take longer than 1 second per line. Do this for 1 minute.
After you have done this, repeat the exercise but this time begin 2 words in from the first word of each line, and end 2 words in from the last word. Use the pen to track and pace at a consistent speed of one line per second.  Do this for 1 minutes.
Great work! Just one more exercise to go. Begin at least 3 words in from the first word of each line, and end 3 words in from the last word. Repeat the technique, keeping each line to no more than ½ second. Do this for 3 minutes. Some will comprehend nothing, which is to be expected.
STEP 3: Measure your new reading speed

Here's the fun part! Let's see how much you have improved your reading speed by. Simply take the test in Step 1 again (do the online test or calculate your speed manually).
What's your new reading speed?
Happy reading!
Sources:
1. Scientific Speed Reading: How to Read 300% Faster in 20 Minutes, Tim Ferriss
2. Youtube: Learn To Speed Read: Read 300% Faster in 15 Minutes, Zander Woodford-Smith